L'actu RESCOLL - Non classé
MEDTEC Europe was a success for RESCOLL !
Rescoll'Blog / 4 mars 2013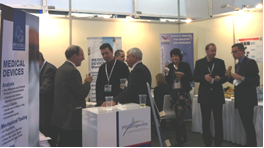 RESCOLL exhibited at MEDTEC Europe 2013: the international exhibition of Manufacturing and Automation Technology, Materials and Outsourcing for European Medical Device Manufactures, held in Stuttgart (Germany) from 26 to 28 February 2013.
This event was the opportunity to introduce the medical devices department of RESCOLL.  RESCOLL offers a variety of technological services to analysis, develop, prototype and manufacturing biomaterials and medical devices for orthopedic, spine, vascular and maxillofacial fields. The certified test laboratory (chemical, physiochemical and mechanical) according to ISO 17025 and the certified manufacture unit according to ISO 13485 have been widely appreciated in this highly regulated field (Public Health Code, Directive 93/42/EEC as amended by 2007/47/EC …).
MEDTEC Europe was for us, an opportunity to build relationships, partnerships and achieve several orders. MEDTEC Europe was a success for RESCOLL !
To find out more, please contact one of our specialists in Medical Devices: e.pacard@rescoll.fr